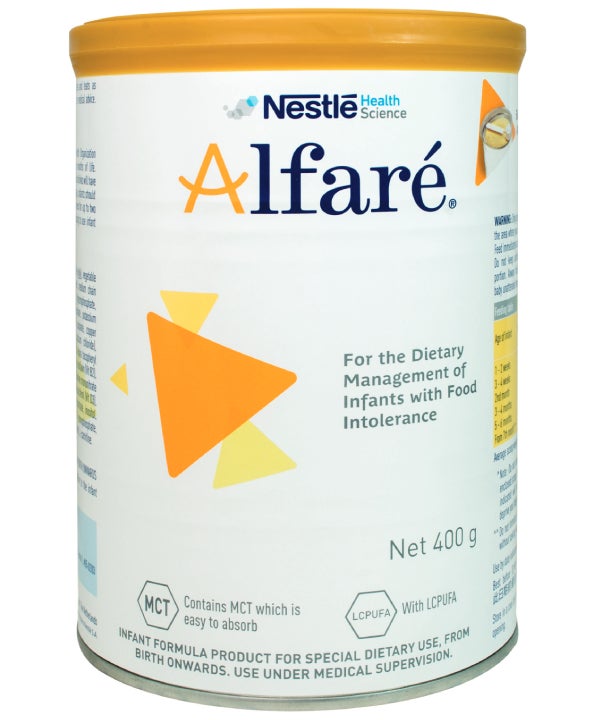 Alfaré Powder
Alfaré® is an extensively hydrolyzed, lactose-free, hypoallergenic formula that provides first-line relief from the symptoms associated cow's milk protein allergy and/or food intolerance in infant and young children with gastrointestinal impairment.
---
Contains 40% MCTs of total fat content
Contains LCPUFA
Extensively hydrolysed 100% whey protein
Low residue
Nutritionally complete
Lactose free & gluten free
Suitable as sole source of nutrition up to 6 months of age and thereafter in combination with other appropriate foods.
Maltodextrin (corn), enzymatically hydrolyzed whey protein (milk), vegetable oil (palm olein, sunflower, rapeseed, blackcurrant seed), medium chain triglycerides (2.5%), potato starch, minerals (calcium glycerophosphate, magnesium chloride, sodium chloride, potassium phosphate, potassium chloride, calcium phosphate, ferrous sulphate, zinc sulphate, copper sulphate, potassium iodide, calcium chloride, manganese sulphate), emulsifier (E472c), vitamins [sodium ascorbate (Vit C), dl-alpha tocopheryl acetate (Vit E), niacinamide (niacin), calcium pantothenate, riboflavin (Vit B2), retinyl acetate (Vit A), pyridoxine hydrochloide (Vit B6), thiamine mononitrate (Vit B1), cholecalciferol (Vit D3), phylloquinone (Vit K1), folic acid, cyanocobalamin (Vit B12), d-biotin], acidity regulator (citric acid), fish oil, taurine, choline bitartrate, inositol, nucleotides (cytidine 5'-monophosphate, uridine 5'-monophosphate, adenosine 5'-monophosphate, guanosine 5'-monophosphate), L-carnitine.
Unit
Per 100g
Per 100 mL
Energy
kJ/kcal
2102/502
284/68
Protein [11% kcal]
g
14
1.9
Fat [45% kcal], of which:
g
25.1
3.4
- Saturated
g
12
1.6
- Monounsaturated
g
6.9
0.93
- Polyunsaturated
g
4.1
0.55
- DHA [omega 3]
mg
44
11
- ARA [omega 6]
mg
80
11
- MCT
g
9.9
1.3
- α-Linotenic acid
g
0.45
0.06
- linoleic acid
g
3.55
0.48
Carbohydrate [44% kcal],
of which:
g
55
7.4
- sugar
g
2.6
0.3
- lactose
g
<0.2
Calcium
mg
500
57
Copper
mg
0.37
0.05
lodine
µg
85
11
Iron
mg
5.0
0.67
Magnesium
mg
58
7.8
Manganese
mg
0.067
0.009
Phosphorus
mg
340
46
Selenium
µg
19
2.6
Zinc
mg
5.0
0.67
Chloride
mg
410
55
Potassium
mg
610
82
Sodium
mg
245
33
OTHER NUTRIENTS
Taurine
mg
40
5.4
L-Carnitine
mg
8.5
1.3
Choline
mg
50
6.6
Inositol
mg
45
3.4
Total Nucléotide
mg
42
5.7
Vitamin A
µg RE
480
65
Vitamin B6
mg
0.46
0.062
Vitamin B12
µg
2.9
0.39
Vitamin C
mg
85
11
Vitamin D
µg
7.5
1
Vitamin E
mg -TE
9.0
1.2
Vitamin K
µg
45
6.1
Biotin
µg
11
1.5
Niacin
mg
4.6
0.62
mg NE
9.0
1.2
Folate
µg
60
8.1
Pantothenic acid
mg
3.1
0.42
Riboflavin
mg
1.0
0.13
Thiamin
mg
0.5
0.068