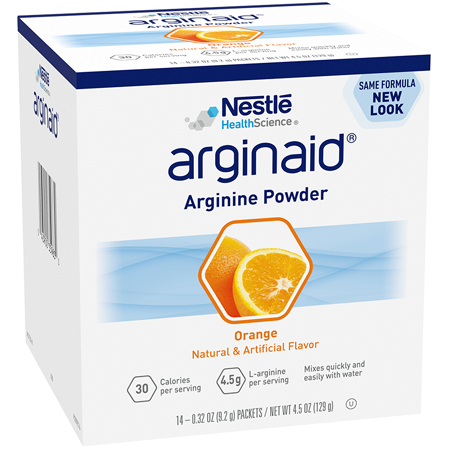 ARGINAID® Arginine Powder
ARGINAID® is a fat free arginine powder designed for people with chronic wounds. Suitable for oral or tube feed use and provides 0.11 kcal/mL.

ARGINAID® powder is a medical food arginine module specially formulated for the dietary management of altered physiologic or metabolic conditions that respond to increased arginine intake.
---
Per serving contains 4.5g of L- Arginine enriched with Vitamin C and Vitamin E
Suitable for oral or tube feed use
Blends quickly and easily with water
Low Calorie
Lactose Free, Gluten Free and Sugar Free
Patients with: 
Chronic wound and slow to heal wound
Pressure injuries (Stages 3,4, unstageable)
Diabetic foot ulcers
Non-healing surgical wounds
Burn injuries
L-Arginine powder, Citric and malic acids, sodium ascorbate, alpha-tocopheryl acetate (Vitamine E source) and less than 2% aspartame (sweetener)*, acesulfame potassium (sweetener), natural and artificial flavor, colour (beet juice, turmeric and annatto extracts).
*Phenylkeonurics: Contains Phenylalanine
Nutrition Information
Serving Size
1 packet
(9.2g)
%DV /
%RDI*
Calories
kcal
25
Calories from Fat
kcal
0
Total Fat
g
0
0
Saturated Fat
g
0
0
Trans Fat
g
0
Cholesterol
mg
0
0
Sodium
mg
30
1
Potassium
mg
5
0
Total Carbohydrate
g
2
<1
Dietary Fiber
g
0
0
Sugars
g
0
Protein
g
***
***
Vitamin A
IU
0
Vitamin C
mg
260
Calcium
mg
0
Iron
mg
0
Vitamin E
IU
300
L-arginine ***
g
4.5
**
Total Nitrogen ***
g
1.4
*Percent RDI and Daily Value (DV) for adults and children 4 or more years of age
**No RDI established
***Contains 4.5g per packet of the amino acid L-arginine - a key building block of protein
---