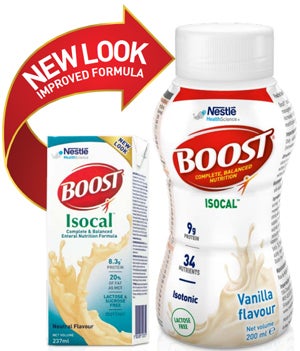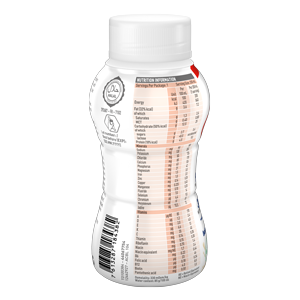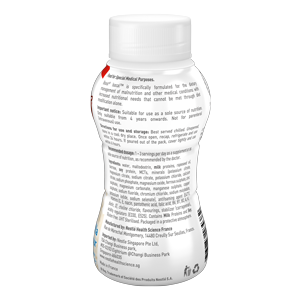 BOOST® ISOCAL™ LIQUID
BOOST® Isocal™ is specifically formulated for the dietary management of malnutrition and other medical conditions with increased nutritional needs that cannot be met through diet modification alone.​
What`s new?
28% increase* in protein​
7% reduction* in carbohydrate​
Lower sodium content​
*vs previous formulation on a per ml basis
Buy Now
---
Low residue diet is easy to digest and decrease the amount of stool in the intestines. Unique blend of milk and soy proteins to support tissue repair, wound healing and muscle buildup​
Contains MCT which is a form of fat that is easy to digest and absorbed for energy and its suitable for those with fat malabsorption issues ​
Lower CHO content reduces the risk of Hyperglycemia​
While sodium and phosphorus is slightly lower, potassium and chloride is raised.​
Isotonic and reduces the risk of osmotic diarrhea​
Vanilla flavor​
Suitable for oral and tube feeding patients​
Water, Maltodextrin, Milk proteins, rapeseed oil, sucrose, soy protein, MCTs, minerals (potassium citrate, magnesium citrate, sodium ​ citrate, potassium chloride, calcium citrate, sodium phosphate, magnesium oxide, ferrous sulphate, zinc sulphate, magnesium ​ carbonate, manganese sulphate, copper sulphate, sodium fluoride, chromium chloride, sodium molybdate, potassium iodide, sodium ​ selenite), antifoaming agent (E471), vitamins (C,E,niacin, pantothenic acid, folic acid, B6, B1,B2, A,K, biotin, D), cholin chloride, ​ flavourings, stabilizer (carrageenan), acidity regulators (E330, E525). Contains Milk Proteins and Soy. Gluten free. UHT Sterilised. ​ Packaged in protective atmosphere.​
Nutritional Information

Unit

Energy

kcal

100

200

kJ

420

840

Fat (32% kcal)
of which:

g

3.6

7.2

Saturates

g

1.3

2.6

MCT

g

0.40

0.80

Carbohydrate (50% kcal)
of which:

g

12.5

25

sugars

g

2.7

5.4

lactose

g

<0.5

Protein (18% kcal)

g

4.5

9.0

MINERALS

Sodium

mg

90

180

Potassium

mg

130

260

Chloride

mg

60

120

Calcium

mg

85

170

Phosphorus

mg

63

126

Magnesium

mg

21

42

Iron

mg

1.5

3.0

Zinc

mg

1.0

2.0

Copper

mg

0.14

0.28

Manganese

mg

0.225

0.45

Fluoride

mg

0.10

0.20

Selenium

µg

7.0

14

Chromium

µg

4.4

9.0

Molybdenum

µg

10

20

Iodine

µg

10.5

21

VITAMINS

Vitamin A

µg RE

85

170

Vitamin D

µg

1.3

2.4

Vitamin E

mg

2.0

4.0

Vitamin K

µg

6.6

13

Vitamin C

mg

20

40

Thiamin

mg

0.14

0.28

Riboflavin

mg

0.15

0.30

Niacin

mg

0.7

1.4

Niacin equivalent

mg NE

1.7

3.4

Vitamin B6

mg

0.22

0.44

Folic Acid

µg

23

46

Vitamin B12

µg

0.18

0.36

Biotin

µg

4.0

8.0

Pantothenic Acid

mg

0.50

1.0