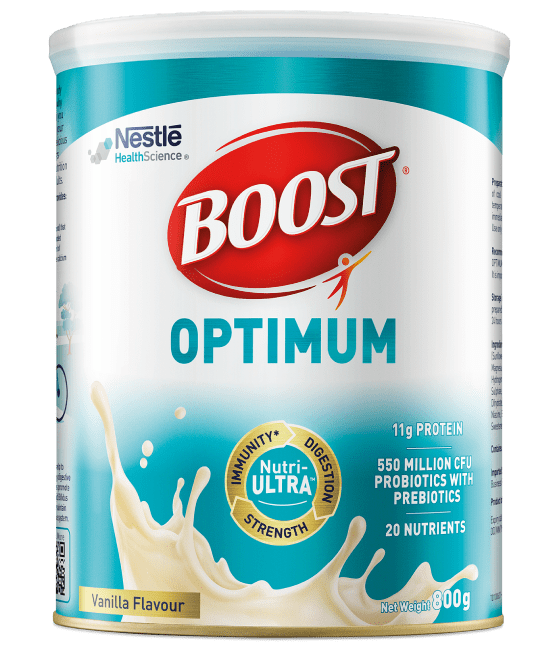 BOOST™ OPTIMUM POWDER
Boost powder is a delicious adult nutritional supplement that contains high quality protein, probiotics and prebiotics, vitamins and minerals to address nutritional needs of adults with a taste you'll love. Specifically formulated to address the needs of the aging body, with a particular focus on filling in the nutritional gaps for those who are 50+.
---
are seeking to supplement their daily nutritional intake
lead a hectic lifestyle with tendency to skip meals
are underweight or on a calorie-controlled diet
have little or poor appetite
recovering from illness or surgery
Maltodextrin, Milk Proteins (Potassium Caseinate), Whey Protein Concentrate (Cow's Milk), Vegetable Oils (Sunflower, Rapeseed), Surcrose, Prebiotics (Fructo-Oligosaccharide, Inulin), Minerals (Calcium Carbonate, Magnesium Chloride, Potassium Hydroxide, Potassium Phosphate, Sodium, Hydroxide, Ferrous Sulphate, Zinc Sulphate, Managenese Sulphate, Copper Sulphate, Potassium lolide, Chromium Chloride, Sodium Senelate, Sodium Molybdate), Acidity Regulator (Citric Acid, Phosphoric Acid), Emulsifier (Soy Lecithin), Choline, Vitamins (E, C, Niacin, Pantothenic Acid, B6, B1, B2, A, Folic Acid, D, K, B12, Biotin), Probiotic (Lactobacillus Paracasei), Flavouring, L-Carnitine, Taurine, Sweetener (Acesulfame-K).
Unit
Per 100g
Per 250 ml serving
(55 g powder)
Energy
kcal / kJ
445 / 1864
245 / 1025
Fat (35% TEI^)
g
17.50
9.62
of which
Saturates
g
1.80
0.99
Monounsaturated fatty acids
g
10.90
5.99
Polyunsaturated fatty acids
g
3.30
1.81
Alpha linolenic Acid (Omega 3)
g
0.50
0.27
Linoleic Acid (Omega 6)
g
2.70
1.48
Trans fatty acids
g
0.17
0.09
Cholesterol
mg
25.00
13.75
Taurine
mg
17.00
9.35
L-Carnitine
mg
35.00
19.25
Carbohydrate (47% TEI^)
g
53.50
29.42
of which
sugars
g
11
6
lactose
g
0.50
0.27
Dietary Fibre (2% TEI^)
g
5.00
2.75
Protein (16% TEI^)
g
18.50
10.17
Branched-Chain Amino Acid (BCAA)
mg
3.20
1.76
VITAMINS
Vitamin A
µg RE
445
25
Vitamin D
µg
6.40
3.52
Vitamin K
µg
40
22
Vitamin C
mg
38.4
21.1
Vitamin B1
mg
0.90
0.49
Vitamin B2
mg
0.90
0.49
Vitamin B6
mg
1.20
0.66
Vitamin B12
µg
1.30
0.71
Vitamin E
mg α TE
9.50
5.22
Niacin
mg
3.40
1.87
Folic acid
µg
130
72
Pantothenic Acid
mg
3.20
1.76
Biotin
µg
16.30
8.96
MINERALS
Sodium
mg
210
115
Chloride
mg
275
151
Potassium
mg
685
377
Calcium
mg
500
275
Phosphorus
mg
265
146
Magnesium
mg
100
55
Iron
mg
6.30
3.46
Zinc
mg
4.70
2.58
Copper
mg
0.45
0.25
Iodine
µg
73
40
Selenium
µg
22.50
12.37
Manganese
mg
0.97
0.54
Chromium
µg
28.00
15.40
Molybdenum
µg
35.00
19.25
Lactobacillus Paracasei
cfu
1 billion
550 million
---