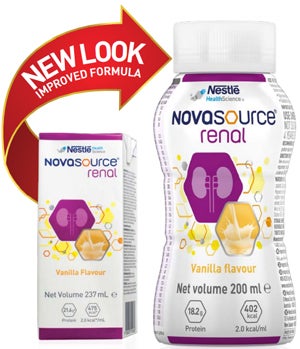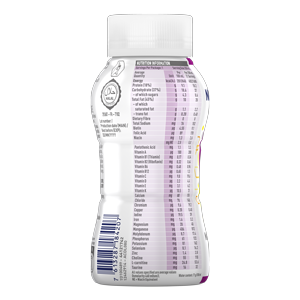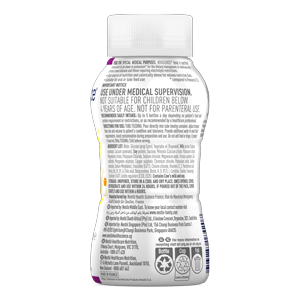 NOVASOURCE™ RENAL LIQUID
Novasource® Renal is specifically formulated for the dietary management of individuals with chronic or acute renal disease and those requiring electrolyte restrictions.​
High caloric density (2.0 kcal/ml) ​
High protein density (9.1g/100ml)​
Buy Now
---
Each pack delivers 18.2g of protein and 401 kcal energy​
High caloric density (2.0 kcal/ml) and protein density (9.1g/100ml)​
Low in potassium (8.1mg/100ml), magnesium (2.0mg/100ml), phosphorus (6.1mg/100ml) and sodium (7.6mg/100ml)​
Vanilla flavour​
Acute renal injury (AKI)​
Chronic kidney disease (CKD) on dialysis​
Fluid restrictions​
Electrolyte restrictions​
Oral and/or tube feeding patients​
​
Water, Glucose syrup, Vegetable oil (Rapeseed), Milk proteins (Sodium caseanate, Calcium caseanate), Soya protein, Sucrose, ​ Minerals (Calcium citrate, Potassium citrate, Magnesium citrate, Potassium Chloride, Sodium Chloride, Magnesium oxide, Ferrous ​ sulphate, Zinc sulphate, Manganese sulphate, Copper sulphate, Chromium chloride, Potassium iodide, Sodium selenate), Emulsifier ​ (E471), Choline chloride, Vitamins (C, E, Pantothenic acid, Niacin, B6, B2, B1, A, Folic acid, Betacarontene, Biotin, K, D, B12), ​ L-Carnitine, Taurine, Flavourings, Stabilizer (E407), Acidity regulators (E330, E525). Contains cow's milk and soya.​
Nutritional Information

Unit

Energy

kcal

201

402

kJ

840

1680

Protein (18%)

g

9.1

18.2

Carbohydrate (37%)
of which:

g

18.6

37

sugars

g

4.3

8.6

Total Fat (45%)
of which:

g

10

20

saturated fat

g

1.1

2.2

trans fat

g

0.20

0.40

Dietary Fibre

g

0

0

Total Sodium

mg

76

152

Biotin

µg

4.55

9.1

Folic Acid

µg

89

178

Niacin

mg

1.3

2.6

mg NE

2.5

5.0

Pantothenic Acid

mg

1.1

2.2

Vitamin A

µg

100

200

Vitamin B1 (Thiamin)

mg

0.17

0.34

Vitamin B2 (Riboflavin)

mg

0.32

0.64

Vitamin B6

mg

0.48

0.96

Vitamin B12

µg

0.65

1.3

Vitamin C

mg

9.8

19.6

Vitamin D

µg

2.2

4.4

Vitamin E

mg

3.1

6.2

Vitamin K

µg

10.5

21

Calcium

mg

88

176

Chloride

mg

70

140

Chromium

µg

9.6

19.2

Copper

mg

0.20

0.40

Iodine

µg

19.5

39

Iron

mg

1.6

3.2

Magnesium

mg

20

40

Manganese

µg

406

812

Molybdenum

µg

8.7

17.4

Phosphorus

mg

61

122

Potassium

mg

81

162

Selenium

µg

8.1

16.2

Zinc

mg

1.4

2.8

Choline

mg

55

110

L-carnitine

mg

26.8

53.6

Taurine

mg

16

32