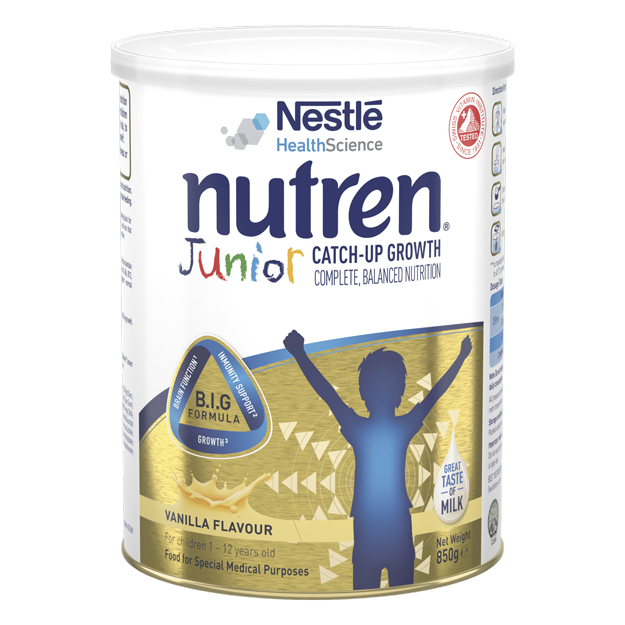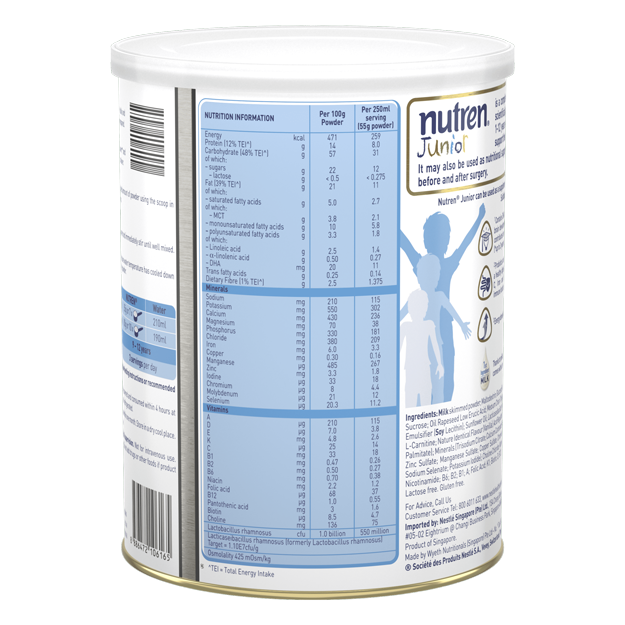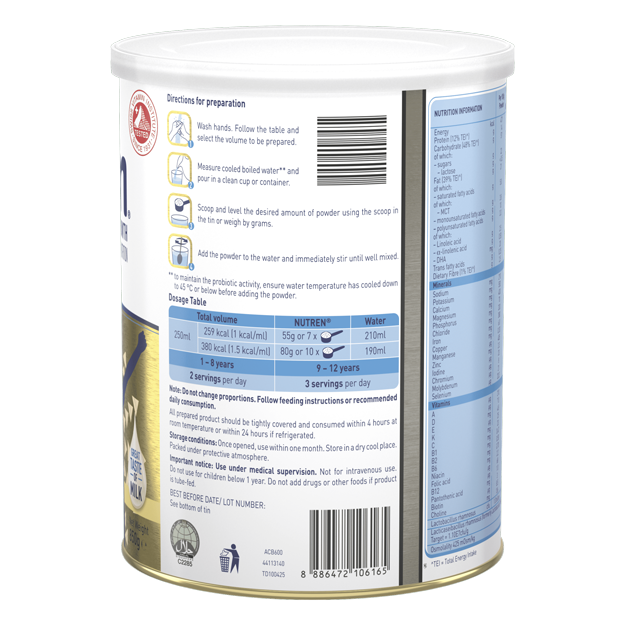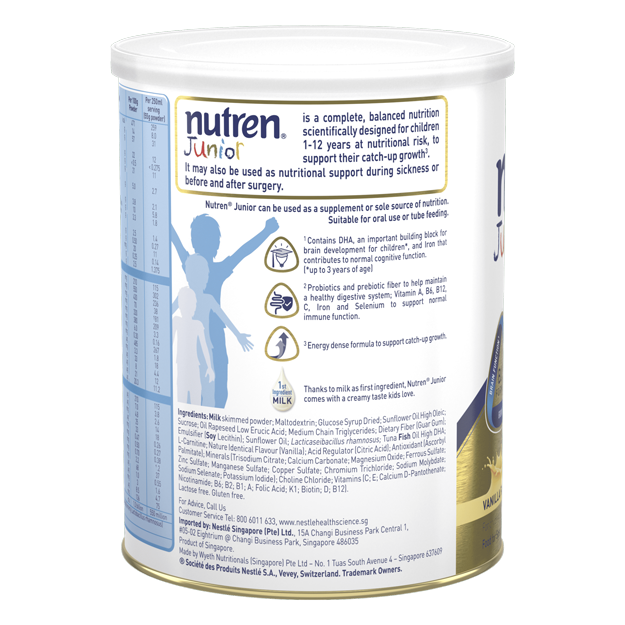 NUTREN JUNIOR POWDER (VANILLA)
Nutren® Junior is a complete, balanced nutrition scientifically formulated for the dietary management of children 1-12 years. Nutren Junior can be used as a supplement or sole source of nutrition*. Prepare your child for the great things in life and achieve a Brighter, Braver and Stronger Everyday with Nutren Junior. 
*Suitable for oral use or tube feeding.)
---
High quality milk as 1st ingredient for a delicious creamy taste
New probiotic strain Lactobacillus rhamnosus (1 billion cfu/100g) and prebiotic fiber to help maintain a healthy digestive system
Provides 11mg of DHA per serving which helps in brain development for children up to 3 years of age
Energy dense formula to support catch-up growth
Children 1-12 years old with or at risk of malnutrition 
Nutritional support before or after surgery.
Milk skimmed powder, Maltodextrin, Glucose Syrup Dried, Sunflower Oil High Oleic, Sucrose, Oil Rapeseed Low Erucic Acid, Medium Chain Triglycerides, Dietary Fiber (Guar Gum), Emulsifier (Soy Lecithin), Sunflower Oil, Lacticaseibacillus rhamnosus, Tuna Fish Oil High DHA, L-Carnitine, Nature Identical Flavour (Vanilla), Acid Regulator (Citric Acid), Antioxidant (Ascorbyl Palmitate); Minerals (Trisodium Citrate, Calcium Carbonate, Magnesium Oxide, Ferrous Sulfate, Zinc Sulfate, Manganese Sulfate, Copper Sulfate, Chromium Trichloride, Sodium Molybdate, Sodium Selenate, Potassium Iodide), Choline Chloride, Vitamins (C, E, Calcium-D Pantothenate, Nicotinamide, B6, B2, B1, A, Folic Acid, K1, Biotin, D, B12)
Nutrition Information
Per 100g Powder
Per 250mL serving
Energy
kcal
471
259
Protein (12% TEI^)
g
14
8
Carbohydrate (48% TEI^)
of which
g
57
31
Sugars
g
22
12
Lactose
g
< 0.5
< 0.275
Fat (39% TEI^)
of which
g
21
11
Saturated fatty acids
of which
g
5
2.7
MCT
g
3.8
2.1
Monounsaturated fatty acid
g
10
5.8
Polyunsaturated fatty acid
of which
g
3.3
1.8
Linoleic
g
2.5
1.4
a-linoleic acid
g
0.5
0.27
DHA
mg
20
11
Trans fatty acids
g
0.25
0.14
Dietary Fibre (1% TEI^)
g
2.5
1.375
Minerals
Sodium
mg
210
115
Potassium
mg
550
302
Calcium
mg
430
236
Magnesium
mg
70
38
Phosphorus
mg
330
181
Chloride
mg
380
209
Iron
mg
6
3.3
Copper
mg
0.3
0.16
Manganese
ug
485
267
Zinc
mg
3.3
1.8
Iodine
ug
33
12
Chromium
ug
8
4.4
Molybdenum
ug
21
12
Selenium
ug
20.3
11.1
Vitamins
A
ug
210
115
D
ug
7
3.8
E
mg
4.8
2.6
K
ug
25
14
Chromium
mg
33
18
B1
mg
0.47
0.26
B2
mg
0.5
0.27
B6
mg
0.7
0.38
Niacin
mg
2.2
1.2
Folic acid
ug
68
37
B12
ug
1
0.55
Pantothenic acid
mg
3
1.6
Biotin
ug
8.5
4.7
Choline
mg
136
75
Lactobacillus rhamnosus
cfu
1 billion
550 million
Osmolality
mOsm/kg
425
---