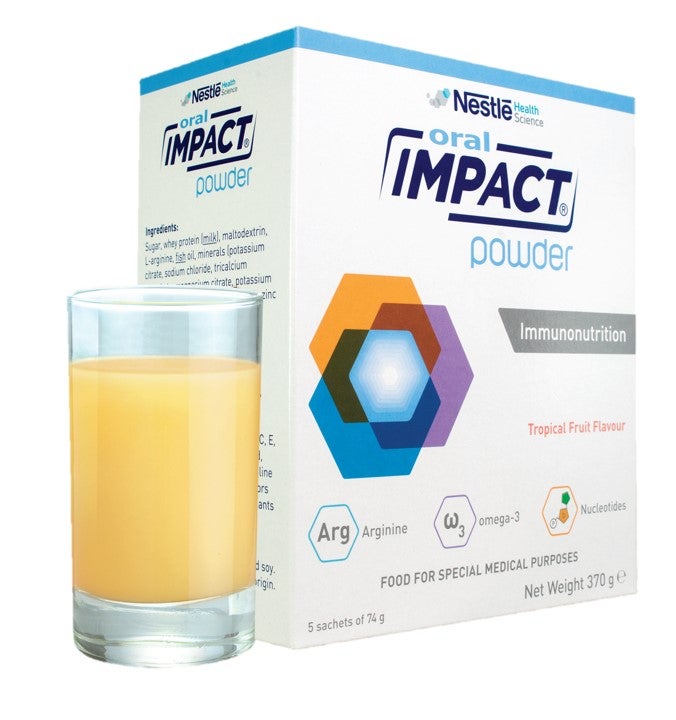 ORAL IMPACT - NUTRITIONALLY COMPLETE ENTERAL SUPPLEMENT USED PERI-OPERATIVELY
ORAL IMPACT® is a unique, patented immune supporting nutritional supplement. It contains Omega-3-Fatty acids, Arginine, dietary Nucleotides and soluble fibre.
ORAL IMPACT® is used as an oral supplement to support the nutritional needs of people undergoing surgery, chemotherapy or radiotherapy.
---
Complete and balanced nutrition
100% high quality whey protein
Contain Arginine (12.5g/L)
Contain Omega-3 fatty acids (3.3g/L)
Contain Nucleotides (1.5g/L)
Tropical fruit flavour
Osmolality: 620 mOsm/kg water
Undergoing major neck surgery for cancer
Undergoing major abdominal cancer surgery
After severe trauma
Sugar, whey (milk) protein, maltodextrin, L-arginine, fish oil, minerals (potassium dihydrogen phosphate, ferrous sulphate, zinc sulfate, potassium iodide, copper gluconate, chromium trichloride, manganese sulfate, sodium selenite, sodium molybdate, sodium fluoride), partially hydrolysed guar gum fire, medium chain triglycerides Oil, corn oil, acidity regulator (citric acid), flavors (mango, grapefruit, passionfruit), ribonucleic acid sodium salt, vitamins (C, E, B5, A, D, niacin, B6, B1, B2, K, folic acid, D-biotin), stabilizer (xanthan gum), choline bitartrate, emulsifier (soy lecithin), colors (beta carotene, beetroot red), anti-oxidants (L-ascorbyl palmitate, tocopherol rich-extract). Gluten free.
Contains food allergens: milk, fish and soy. All additives are of plant or synthetic origin
---