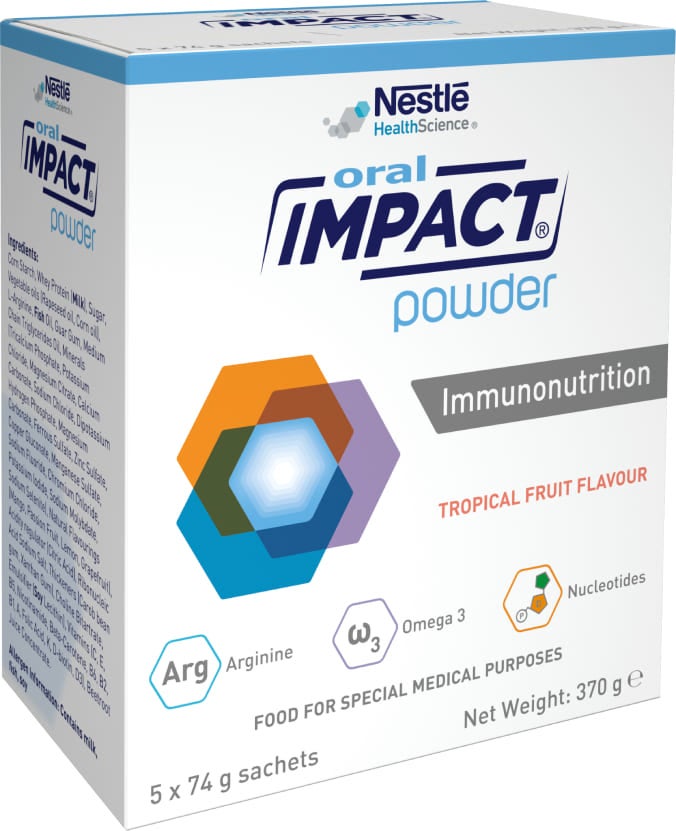 ORAL IMPACT® - IMMUNONUTRITION USED PERI-OPERATIVELY OR DURING CANCER TREATMENT
ORAL IMPACT® is a unique, patented immune supporting nutritional supplement. It contains Omega-3-Fatty acids, Arginine, dietary Nucleotides and soluble fibre.
ORAL IMPACT® is used as an oral supplement to support the nutritional needs of people undergoing surgery, chemotherapy or radiotherapy.
---
3 unique immunonutrients : Arginine, Omega-3 fatty acids and Dietary Nucleotides
100% whey protein
High in protein ( 18.1g / serving)
Low glycemic index
Complete and balanced nutrition
Undergoing surgery
Undergoing cancer treatment such as chemotherapy & radiotherapy
Corn Starch, Whey Protein (Milk), Sugar, Vegetable oils (Rapeseed oil, Corn oil), L-Arginine, Fish Oil, Guar Gum, Medium Chain Triglycerides Oil, Minerals (Tricalcium Phosphate, Potassium Chloride, Magnesium Citrate, Calcium Carbonate, Sodium Chloride,Dipotassium Hydrogen Phosphate, Magnesium Carbonate, Ferrous Sulfate, Zinc Sulfate, Copper Gluconate, Manganese Sulfate, Sodium Fluoride, Chromium Chloride, Potassium Iodide, Sodium Molybdate, Sodium Selenite), Natural Flavourings (Mango, Passium Fruit, Lemon, Grapefruit), Acidity Regulator (Citric Acid), Ribonucleic Acid Sodium Salt, Thickeners (Carob bean gum, Xanthan Gum), Choline Bitartrate, Emulsifier (Soy Lecithin), Vitamins (C, E, B5, Nicotinamide, Beta-Carotene, B6, B2, B1, A, Folic Acid, K, D-biotin, D3), Beetroot Juice Concentrate
NUTRITION INFORMATION
100g
74 g*
Energy
kcal
kJ
410
1714
303
1268
Protein (24% kcal)
g
24.5
18.1
Carbohydrate (45% kcal) of which
g
46
34
- Sugars
g
17
12.6
- Lactose
g
<=0.5
<=0.4
Fat (30% kcal) of which
g
13.5
10
- Saturates
g
4.3
3.2
- Medium Chain Triglycerides
g
2.8
2.1
- Monounsaturates
g
3.2
2.4
- Polyunsaturates of which
g
3.7
2.7
- Omega 3
g
1.6
1.2
Dietary Fibre (1% kcal)
g
2.6
1.9
VITAMINS
A
µgRE
325
240
B1
mg
0.4
0.3
B2
mg
0.8
0.6
B6
mg
0.73
0.54
B12
µg
0.97
0.72
Biotin
µg
20
15
C
mg
85
63
D
µgD
3.7
2.7
E
mg TE
8
5.9
Total Folic acid
µg
103
76
K
µg
30
22
Niacin
mg/mg NE
1.6 / 6.1
1.2 / 4.5
Pantothenic acid
mg
3.25
2.41
MINERALS
Calcium
mg
271
200
Chloride
mg
471
348
Chromium
µg
33
24
Copper
mg
0.56
0.41
Fluoride
µg
439
325
Iodine
µg
52
38
Iron
mg
3.75
2.77
Magnesium
mg
77
57
Manganese
µg
658
487
Molybdenum
µg
15
11
Phosphorus
mg
237
175
Potassium
mg
589
436
Selenium
µg
17
12
Sodium
mg
205
152
Zn (Zinc)
mg
4
3
OTHER NUTRIENTS
Arginine
g
5.1
3.8
Total Nucleotides
mg
487.5
360.8
Osmolarity
376 m0sm/l
NE = Niacin Equivalent
TE = Tocopherol Equivalent
Serving size: 74g
Number of servings per pack: 5
* Serving preparation: 74g +250 ml water
---