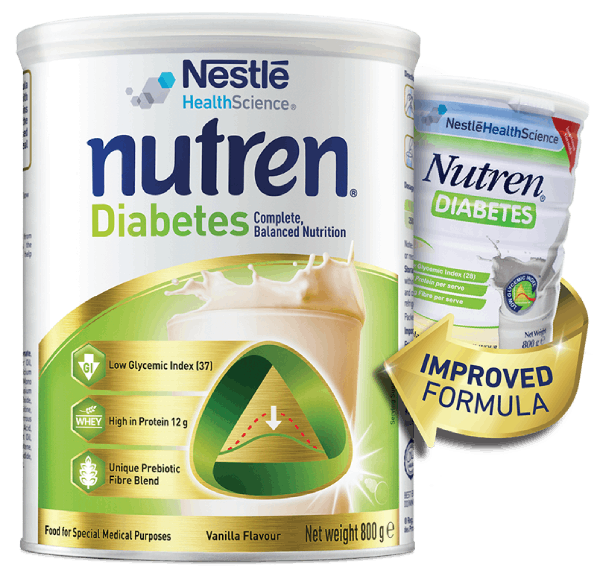 NUTREN DIABETES POWDER
Nutren Diabetes Powder contains essential nutrients, including 30 vitamins and minerals, to meet the nutritional needs of people living with diabetes. It can be used for both oral and tube feeding.
---
Complete and balanced nutrition
Each serving delivers 11.3g of protein, 4.79g of fibre and 253 kcal energy
Low glycemic index of 28
Low osmolality of 250 mOsm/kg water
Rich in fibre (100% soluble)
Contains 50% high quality whey protein
More than 60% of fat composition is Monounsaturated fatty acid which has valuable health benefits
Lactose, sucrose and fructose free
Vanilla flavour
Suitable for oral or tube feeding patients
Dietary management of diabetes mellitus type I and II
Stress induced hyperglycemia
Gestational diabetes mellitus ( GDM)
Meal replacement
Impaired glucose tolerance
Corn Starch, Whey Protein, Sunflower Oil, Sodium Caseinate, Isomaltulose, Guar Gum, Rapeseed Oil, Glucose Syrup, Casein, Arabic Gum, Fructo-Oligosaccharide, Maltodextrin,Calcium Carbonate, Potassium Chloride, Inulin, Sodium Hydrogen Phosphate, Mono and Diglycerides, Choline Bitartrate, Inositol, Tripotassium Phospahte, Citric and Fatty Acid Esters of Glycerol, Magnesium Oxide Flavourings, Vitamin C, Acesulfame Potassium, Glucose, L-Carnitine, Propylene Glycol, Sodium Hydroxide, Taurine, Sunflower Lecithin, Ferrous Sulphate, Zinc Sulphate, Vitamin E (Contains Soya), Acetic Acid, Nicotinamide, Vitamin B5, Sucrose, Magnesium Sulphate, Coconut Oil, Vitamin B6, Copper Sulphate, Vitamin B1, Vitamin B2, Vitamin A, Carotene, Vitamin B9, Chromium Chloride, Sodium Molybdate, Potassium Iodide, Sodium Selenite, Vitamin K1, Vitamin B7, Vitamin D3 and Vitamin B12.
Contains Milk Protein and Soy
Unit
Per 100g
powder
Per 250 ml
(55g powder)
Energy
Kcal/kJ
455 / 1906
250/1048
Fat (38% TEI*)
g
19
11
Saturated fatty acids
g
1.9
1.1
Monounsaturated fatty acids
g
10
5.6
Polyunsaturated fatty acids
g
3.2
1.8
Alpha linolenic Acid (Omega 3)
g
0.4
0.2
Linoleic Acid (Omega 6)
g
2.7
1.5
Trans fatty acids
g
ND^
ND^
Carbohydrate (39% TEI*)
g
44
24
of which
sugars
g
9.5
5.2
lactose
g
ND^
ND^
Dietary Fibre (3% TEI*)
g
7.0
3.8
Protein (20% TEI*)
g
23
13
VITAMINS
Vitamin A
µg RE
488
269
Vitamin D
µg
7.7
4.3
Vitamin K
µg
37
20
Vitamin C
mg
56
31
Vitamin B1
mg
0.6
0.3
Vitamin B2
mg
0.6
0.3
Vitamin B6
mg
1.1
0.6
Vitamin B12
µg
2
1.1
Vitamin E
mg α TE
10
5.7
Niacin
mg
4.4
2.4
Folic acid
µg
125
69
Pantothenic acid
mg
3
1.6
Biotin
µg
14
7.9
MINERALS
Sodium
mg
440
242
Chloride
mg
315
173
Potassium
mg NE
515
283
Calcium
mg
300
165
Phosphorus
mg
200
110
Magnesium
mg
84
46
Iron
mg
5.5
3
Zinc
mg
3.5
1.9
Copper
mg
0.6
0.4
lodine
ug
54
30
Selenium
ug
20
11
Manganese
ug
847
466
Chromium
ug
37
20
Molybdenum
ug
33
18
Taurine
mg
31
17
L-Carnitine
mg
38
21
Osmolarity
mOsm/L
250
Osmolality
mOsm/kg
265
*TEI=Total Energy Intake
---